QSC ToughMix-16
TouchMix is quite simply the most powerful, compact mixer ever created. It offers the features, capabilities, and sound quality of the world's most esteemed large format consoles in a highly compact and portable package. Perfect for musicians, bands, AV production professionals and small performance venues, the TouchMix-16 goes "Beyond Mixing" by offering Wizards, Presets and other beneficial tools that help both seasoned audio professionals and novices alike get great results quickly and easily.
YAMAHA MG10XU
The Yamaha MG10XU analog mixer is well-suited for all events, with its rich features and outstanding sound quality. The MG10XU's quality op-amp ensures that your mix sounds transparent and articulate. The MG10XU's crystal clear D-PRE preamps will squeeze every drop of tone from your mics, with natural-sounding bass and smooth highs. Featuring onboard digital effects, switchable phantom power, a pad switch, one-knob compressors, EQ, and LED metering. MG10UX utilizing many state-of-the-art features from Yamaha's high-end consoles, the MG10XU is ready to work for you!
YAMAHA MG16XU
The MG16XU boasts an intuitive interface with capacities suitable for a diverse range of users and applications. For installed, recording, or live music settings, the solid construction and flexible design of these consoles lets you shape your sound with confidence, continually delivering peak performance and a level of sound quality and reliability that has made it a leader in its class.
Shure SM57
The Shure SM57 is one of the most popular professional instrument microphones of all time. The dynamic SM57 mic performs reliably delivering natural sound night after night.
Shure BLX188 Dual Lavalier
Many lavalier applications require two presenters, either one expert and one-color commentator, or two subject matter experts having a broadcast conversation. This Shure BLX188/CVL system is perfect for those applications. Included in this package is the BLX88 dual-channel receiver, two BLX1 Bodypack transmitters and two CVL lavalier microphones.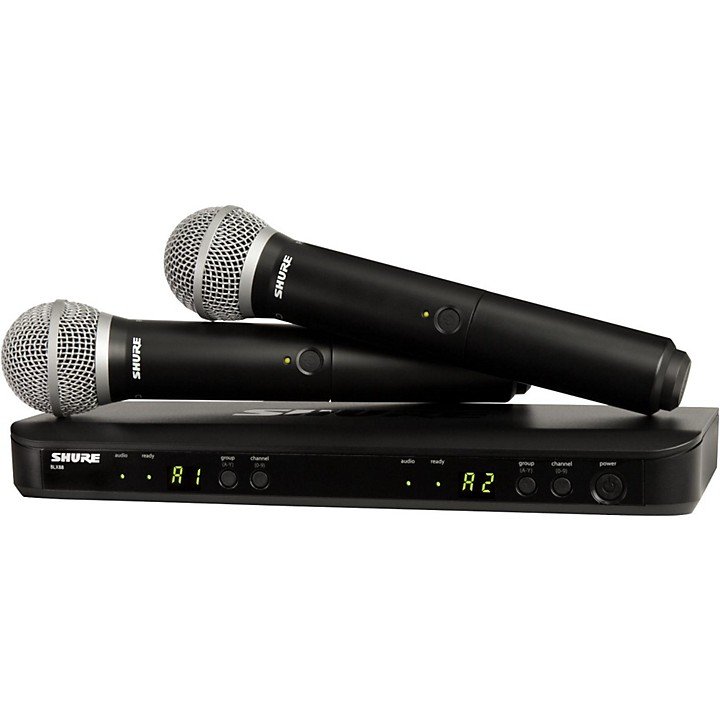 Shure BLX288/PG58 Dual Wireless Mic System
The BLX288/PG58 system features Shure's dual-channel BLX88 receiver and a pair of BLX2 transmitters, each equipped with a Shure PG58 mic. The transmitter features the popular PG58 mic, a rugged and reliable ABS polymer chassis and frame, a 10dB pad, an On/Off ergonomic push-button switch, and a single bi-color LED battery indicator.
Sennheiser XSW 2-835 Wireless System
Raise your voice. High flexibility for those willing to go a step further. XS WIRELESS 2 grows with your demands by offering an intuitive LCD display for more manual options and 12 compatible channels in a stable UHF band, withstanding tougher live stage conditions. The XS WIRELESS 2 VOCAL SET is an easy to use all-in-one wireless system for singers and presenters featuring Sennheiser's renowned evolution microphone capsule e835 (superior dynamic, cardioid) to perform under pressure.
KAROAKE MACHINE
High Definition (HD) Picture & Video Background, HD Movie and Music Playback
2 Digital Wireless Microphones with Controls
2,100 Built-in English Songs with Hi-fidelity Sound Quality
Personalized Video and Picture Background Song Recording/Music Note Display.
SHURE BLX24R/SM58 Wireless System
For people who wish to unplug from the wire, BLX Wireless Systems are a great choice.Shure SM Wireless Microphones deliver an unparalleled mix of audio quality and rugged dependability that has made them the industry standard in professional sound. They are built to withstand the rigors of regular stage and studio use.
Shure BLX14R Lavalier System
The BLX14R/W85 Lavalier Wireless System is part of the BLX wireless systems family. Shure BLX Wireless Systems combine professional-quality sound with simple setup and an intuitive interface for legendary audio performance right out of the box.
Galaxy Audio ESM3 Headset
The ESM3's super lightweight design makes wearing the microphone more comfortable, even for long periods of time, without using excessive pressure to hold the microphone in place. The soft microphone stem allows for easy adjustment of the microphone's position as you wear the headset.
SHURE SM58 MICROPHONE
The Shure SM58 Mic is world-renowned for its distinctive upper-midrange presence peak that ensures an intelligible, lively sound. Perfectly fits the hand, balanced for total comfort during long gigs. Frequency response is a smooth, vocal-tailored 50Hz-15kHz.