Jmaz FIRESTORM F3 Cold Sparkler
The Firestorm F3 by JMAZ Lighting is a portable and versatile cold spark machine that can be adjusted to meet your needs. With multiple control solutions built-in, including wired DMX, Stand-Alone Mode, or using the included RF Remote, you can take control of your event. The Firestorm uses only 500-watts of power and has a warm-up time of fewer than 8 minutes. You can adjust the output height with 3 options, as well as a continuous run option, or timed settings, in addition to wirelessly shutting off the heating element to extend the unit's life. Finish any event strong with memories that will spark a wow! With the Firestorm Series Cold Spark machine from JMAZ, you can create amazing indoor displays taking your events to the next level.
DJ Fog Machine
The DJ Fog Machine is a powerful new fogger with an outboard fog switch which is ideal for any application. This portable fog-master is great for bands, DJs, clubs, or anyone else who wants a reliable affordable fogger. 1500W Party Fog Machine! Simple to use - just fill the machine with fog fluid, plug in to wall outlet and wait for the Ready Light.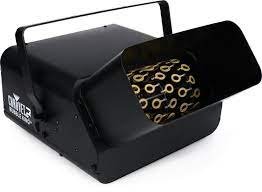 Bubble Machine
The Bubble King is a bubble effect machine ideal for parties, events, mobile DJs and more. The B-550 Bubble King features 3 double wands, a manual bubble button, and extremely high output. The bracket allows the unit to be easily mounted on a lighting truss, T-bar, etc.