JBL EON ONE MK2
The JBL EON ONE MK2 battery-powered column PA packs a class-leading acoustic package, 5-channel digital mixer, dbx and Lexicon DSP, Bluetooth functions and universal app control into a lightweight, portable package that can be carried in one hand. The EON ONE MK2 delivers the fidelity JBL is legendary for, combining a geometrically optimized, C-shaped 8-tweeter array with a 10" woofer to deliver class-leading clarity and coverage down to 37 Hz, with wide dispersion and a maximum output of 123dB. Variable Power Performance automatically optimizes power performance for AC or battery operation.
QSC K12.2
The QSC K12.2 Series is quite simply, the next standard in powered loudspeakers. To start, each model is equipped with a 2000-watt power module carefully matched to high-performance woofers and compression drivers. DMT™ (Directivity-Matched Transition) ensures smooth coverage across the entire listening area. Advanced on-board DSP provides Intrinsic Correction™ voicing and advanced system management to further optimize performance.
QSC K10.2
QSC K10.2 Powered 10" 2-way Loudspeaker System with Advanced DSP • Best-in-class audio performance • Class D amplification with 1,012W continuous /2,000W peak
QSC K8.2
QSC K8.2 represents the best-in-class loudspeaker for today's demanding audio professionals. The perfect combination of elegant design, superior audio performance, high functionality, simple and intuitive operation, and genuine QSC reliability, K.2 delivers extraordinary results.
QSC CP8
QSC CP8 - High performance, superior quality and lasting reliability. These are the hallmarks of the QSC brand and the reason why millions of professionals the world-over have come to trust QSC to help them confidently deliver superior experiences and memorable performances. The CP Series follows in that same tradition while also offering an ultra-compact form factor and class-leading value.
QSC KS118
The QSC KS118 powered subwoofer delivers potent bass for DJs, live bands and other performers. Its onboard 3,600W Class-D amplifier drives an 18″ direct-radiating woofer for impressive low end. This powered sub is ideal for both mobile and installed applications. It's the perfect complement to QSC's K.2 and CP Series powered loudspeakers.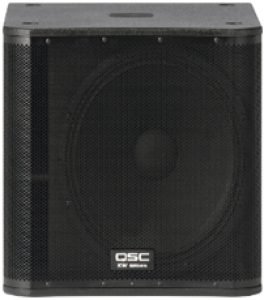 QSC KW181 1000W 18″ POWERED SUBWOOFER
The QSC KW181 is an 18″ sub with 1000 Class D continuous output, and extended bass in a lighter birch enclosure. Building on the success of QSC's K Series, the KW181 subwoofer, like the rest of QSC's KW active loudspeakers, represents QSC's next evolutionary step in wood enclosure loudspeakers. The system engineers created the KW series to feature all the groundbreaking electronic attributes of the popular K Series while at the same time designing a product that is both smaller and significantly lighter than previous wood enclosure models.
QSC K10
Product Features 10in Two-Way Powered Lightweight Loudspeaker Power Handling Peak: 2000 watts RMS: 1000 watts Lightweight portable powered speakers with legendary QSC amplifier power and reliability Built-In class D amplifier Extensive DSP enhances system performance Attractive and professional appearance Rugged ABS enclosure Tour-grade 18 gauge steel grilles Power, Signal A, Signal B, Standby, Limit, Mic LED indicators Thermal limiting, output overcurrent, over temperature muting, Guardrail amplifier protection Ergonomic handles with comfortable, non-slip grip DMT (Directivity Matched Transition) provides for matched LF and HF coverage across the entire listening area, eliminating unnatural "dead" or "hot" frequency zones Intrinsic Correction, first featured in our high-end line-array products maps 65-75 spatially-averaged measurements to IIR and FIR filters that actively adjust time, frequency and amplitude response to a maximally flat band pass target.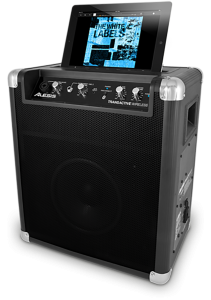 ALESIS TRANSACTIVE – BATTERY POWERED SPEAKER
The all-in-one TransActive Wireless is a complete, active PA system designed for on-the-go use. Pull up the telescoping handle, tilt the amp onto the recessed wheels, and take your TransActive Wireless with you wherever you go. Once you're there, simple single-button pairing allows you to instantly stream audio from any Bluetooth device. In addition to Bluetooth streaming, the TransActive Wireless offers a variety of inputs to accommodate almost any source—microphone, guitar, keyboard, computer, drum machine, CD or MP3 player—whatever you need. Use the TransActive Wireless to perform, to play music, or to make your voice heard. The convenient built-in rechargeable battery delivers up to 50 hours of cordless amplification. You can also plug your TransActive Wireless in to an AC outlet for unlimited performance time. So take the TransActive Wireless with you wherever you need to go. You'll spend less time setting up, and more time enjoying your music.